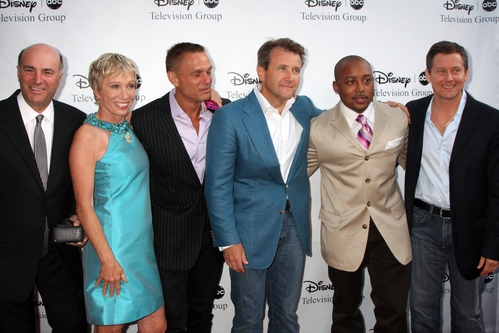 Shark Tank is an immensely popular TV show that began in 2009. If you're not familiar with the premise: entrepreneurs pitch their business ideas to investors, who decide on the show whether or not to give funding.
It's a fun show, and it's given a spotlight to a lot of new diet products. After all, millions of people out there are carrying extra pounds and are sick of diets that don't work. A safe and effective way to lose weight is always going to be in demand.
This is a guide to the various weight loss products that have been featured on Shark Tank. As always, our goal is for you to make informed and safe choices when buying health products.
We also hope this will help you see through all the misinformation put out there by greedy marketers. The only thing worse than being scammed is taking a supplement that could cause you harm.
Related Reading: Our top-rated diet of 2021 has somehow gotten almost no publicity.
Misleading Advertising
Have you seen ads or spam emails about a diet pill that was "featured on Shark Tank"? There are a ton of them out there. But these misleading advertisements always end up taking you to some other diet offer. Often it's a "keto pill" supplement or something similar.
You'll see ads that look something like this: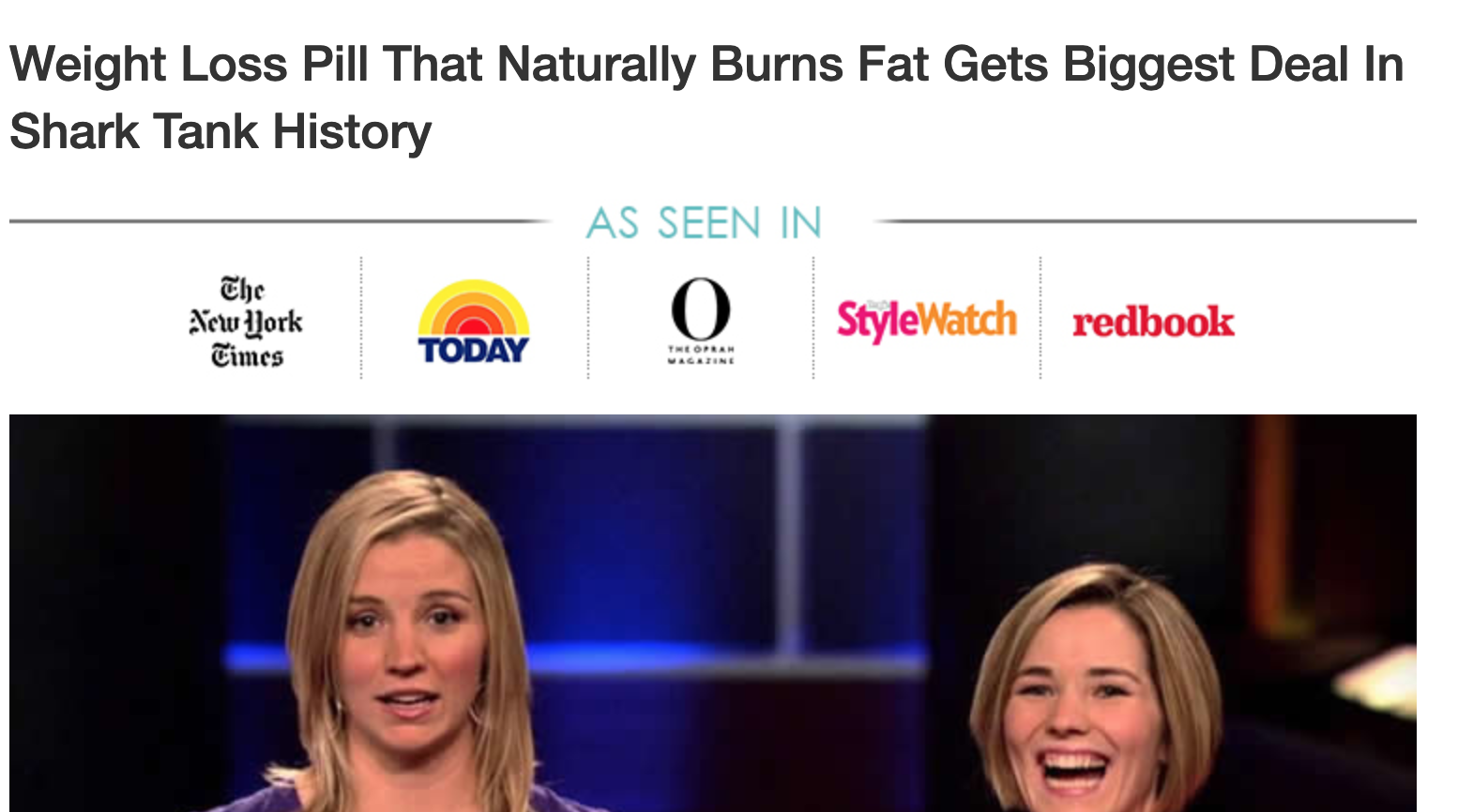 What you see here is highly misleading. The two sisters in the picture were not pitching diet pills. Rather, they were pitching a children's dance company business. No weight loss pill has ever gotten the "biggest deal in Shark Tank history".
Mark Cuban, a regularly featured shark on the show, has taken notice:
This is a scam. If you see anything like this please report them to the @FTC https://t.co/naXO47HQcj

— Mark Cuban (@mcuban) July 5, 2018
Unfortunately this is the world of internet health products in 2021. There are so many online retailers now that it seems the Fair Trade Commission can hardly keep up.
The point is: don't assume these marketers are telling the truth. Refer to this guide if you're wondering whether a weight loss product was actually featured on Shark Tank.
CLA Safflower Oil
Conjugated linoleic acid (CLA) safflower oil is a trendy weight loss supplement that you can buy online or at a supplement retailer. There is a limited evidence suggesting that it helps with weight loss. Further research is needed.
Dr. Russell Greenfield from UNC Chapel Hill School of Medicine wrote about CLA on Dr. Oz's blog. From his article:
So, should you go out and start taking safflower oil products for weight loss? The answer, for now, is no.

And why not? Because the approach is based primarily on the results of a single small study, a study whose weaknesses are significant.
Despite claims otherwise, there was never a CLA safflower oil supplement featured on Shark Tank. Maybe the sharks are too savvy to invest in something that is unproven at this point.
Ketogenic Diet Pills
There are about a million ketogenic diet pills out there, and probably have of them claim they were "featured on Shark Tank" in their advertising.
Again, the claims aren't true. We couldn't find any keto diet pills or keto supplements that were featured on Shark Tank.
Supplements like KetoBHB, and Keto Slim actually make this claim on their Amazon marketplace listing. How they get away with this, we don't know.
By the way, do you really need a keto diet pill? The answer is probably no. Instead, following a proven ketogenic diet blueprint should give you the results you want. Your wallet will thank you for passing on unnecessary pills.
NUI Keto Cookies
In November of 2018, company NUI pitched their "keto cookies" concept and scored a $250k investment from guest shark Charles Barkley. The cookies aren't cheap but they are indeed a keto-friendly option for snacking if you want to follow a strict ketogenic diet.
Check them out on Amazon here.
Cave Shake
Checking the gluten-free, paleo, vegan and low-carb boxes, Cave Shake has wide appeal. The brand of pre-made shakes, created by Holly Heath and Billie Cavallaro, appeared on an October 2018 episode of Shark Tank. After entertaining a few offers, they ended up making a deal with Charles Barkley for $250,000 and a stake in the company.
Mother Beverage
Apple cider vinegar is one of our blog's favorite weight loss drinks. There is sufficient evidence to say that it helps promote weight loss. Plus you can buy it cheap at the grocery store.
In late 2018, a company called Mother Beverage appeared on Shark Tank. They pitched an apple cider vinegar drink that was specially formulated to go easy on your esophagus. It is meant to be more than just a weight loss drink even though it can help with weight control.
This is not to be confused with a 2015 episode that featured "drinking vinegars", which was not meant as a weight loss drink. (That pitch was unsuccessful in getting funding.)
To be clear: apple cider vinegar for weight loss is not a scam. We recommend going with a store bought liquid brand. Mother Beverage also sells their formulation online at a slightly higher price, but it may be worth it if you have acid reflux issues. Apple cider vinegar pills are unnecessary and just a way for companies to take more of your money.
Mealenders
The Mealenders supplement was featured in a 2017 episode of Shark Tank. The dietary supplement is meant to induce you to stop eating through natural biological signals. You take it during the moments immediately after a meal – before you feel full – to keep you from overeating.
The concept didn't get any investment during the show, but business immediately increased following their exposure.
Vade Nutrition Dissolvable Whey Protein
Even though whey protein isn't only meant for weight loss, we include it here for completeness. Vade nutrition co-founders Joe and Megan Johnson appeared on a November 2018 episode pitching their dissolvable whey protein scoops. (Anybody who has tried to bring protein powder to the gym will understand the usefulness.)
The company was relatively small at the time of their appearance, but they still managed to obtain a $700,000 investment from retired baseball star Alex Rodriguez.
Be Fit Food
A small company called Be Fit Food had quite a successful pitch on the Australian version of Shark Tank. Dietitian Kate Save and surgeon Dr. Geoff Draper were able to raise a considerable amount of money for their pre-planned ketogenic meal business.
We have not researched Be Fit Food yet, but this review was detailed and helpful. It seems to be a promising health startup that was indeed featured on Shark Tank. It is best for ketogenic diet adherents.
[This list will be updated regularly, so check back for updates!]