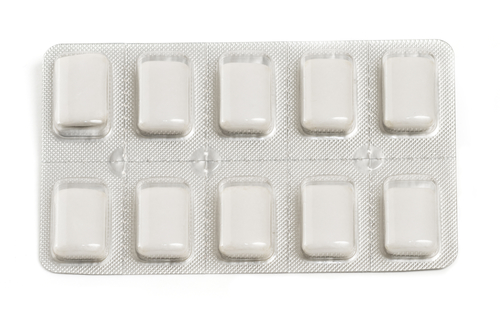 Have you heard about nicotine gum as a weight loss supplement?
It's somewhat controversial. After all, we've been told to stay away from nicotine because it's bad for your health.
But we have seen a few diets that swear by it.
If you're thinking about using nicotine gum to lose weight faster, keep reading. We reviewed the science behind it.
In this article we will cover your burning questions about nicotine and weight loss.
Our goal is to help you make an informed decision. Hopefully this helps.
As always, we recommend talking with your doctor if you have additional questions or concerns.
Does Nicotine Cause Weight Loss?
We need more research on this to know for sure. But, the available evidence points to yes: nicotine can help with weight loss.
Most of us have heard that nicotine can suppress your appetite. In fact, cigarette companies used this idea in their advertising as far back as the early 1900's.
Adding further evidence to this was the fact that people who quit smoking cigarettes tend to gain weight (10 pounds in the first year, on average). This suggests that nicotine plays some role in weight control.
More recently researchers began looking at how nicotine affects appetite and body composition in animal models. So far the results seem to back up the idea that nicotine can cause you to lose weight.
What we really need, though, is a study comparing two groups of people following the same diet and exercise plan, the only difference being whether or not they use nicotine. We couldn't find any study like that, unfortunately.
Is Nicotine Chewing Gum Bad For You?
In small doses, nicotine gum is relatively safe as compared to cigarette smoking and chewing tobacco. However, it does have some side effects and long-term health risks.
According to RxList, side effects include:
elevated blood pressure
increased heart rate
dizziness
insomnia
heartburn
nausea
sore throat
gas
Nicotine gum can also cause dental pain, and it can get stuck to dentures and dental implants.
Long term use of nicotine gum can lead to insulin resistance and cardiovascular disease, as well as dependence on nicotine.
Can You Get Cancer From Nicotine Gum?
There isn't any conclusive evidence that nicotine gum increase risk for cancer. Tobacco is known to contain many cancer-causing ingredients, but nicotine is not believed to be one of them.
A 2016 systematic review examined the possible serious health risks of nicotine replacement therapy and found that no studies provided sufficient evidence that risk for cancer is increased.
Does Nicotine Gum Cause Hair Loss?
Many people on forums and blogs have claimed they experienced hair loss when they began using nicotine. But the link between nicotine and hair loss is a bit indirect, and it's unclear if long-term use of nicotine gum greatly increases the chances of hair loss.
Any hair loss from nicotine is most likely caused by overall diminished health due to nicotine use. This is especially true for tobacco users who experience diminished cardiovascular health and premature aging. If nicotine gum also contributes to hair loss, it is most likely a minor effect and only happens with long term use.
Can Nicotine Gum Cause Weight Gain?
Some nicotine gum users actually experience weight gain. But this is usually only the case for people who switch to nicotine gum instead of tobacco. Since the nicotine dosage in gum is less than in cigarettes, people who switch from tobacco to gum have less appetite suppression than before.
For people who don't regularly use tobacco, nicotine gum shouldn't cause any significant weight gain. It is more likely that it will cause weight loss.
How Many Cigarettes Are A Piece of Nicotine Gum Equal To?
Most nicotine gums contain 2 to 4 mg of nicotine per piece. This comes out to roughly 1/3 to 1/6 of a cigarette. But this is variable depending on the type of cigarette.
How Long Should You Use Nicotine Gum For Weight Loss?
If you want to use nicotine gum for fat loss, it is best to keep it short term.
We've seen a couple different prominent diet programs that recommend using gum as a short-term strategy to accelerate your results. The Underground Fat Loss Manual – our current favorite diet program – suggests using nicotine gum in small doses for a 2-3 week period in order to speed up results. (It's just a suggestion, however, and not a requirement for the diet.)
Can You Get The Same Effect From Nicotine Patches or Lozenges?
Yes. Other nicotine replacements such as patches and lozenges have the same effect as nicotine gum. In short-term small doses, these nicotine supplements can accelerate your weight loss.
Should I Try Nicotine Gum As A Fat Loss Supplement?
If you keep your use to a minimum, nicotine gum can help you lose a bit of extra weight. But it should never be your primary strategy for losing weight. Focus instead on proper diet and exercise.
We realize this is a controversial way to achieve your ideal body, and we strongly recommend consulting your doctor if you have any questions. Especially if you have any underlying health issues that might complicate things.