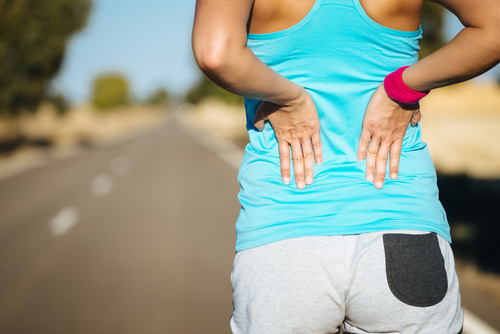 One of the best ways to reduce back pain and improve your posture is by using a brace. But not all support braces are the same.
A very popular brand out there is the Mueller Lumbar Back Brace. It is currently one of the top sellers on Amazon and thousands of people are using it.
If you're thinking about trying one yourself, we put together this Mueller Lumbar back brace review for you so you can decide whether this is the right brand to go for.
What Is The Mueller Lumbar Back Support Brace?
Simply put, it's a detachable back brace that you strap around your lower back for spinal support. It also has a removable outer pad which is convenient for extra support while sitting.
Compared to many back braces it is relatively light weight. It can be worn inconspicuously under an outer layer.
The brace is designed to help reduce pain, stabilize your low back and core, and improve your ability to move and function.
This brace can be tightened in four different directions/dimensions, so you can customize it to your own support needs.
Who Should Use The Mueller Back Brace?
People may go with this brace for a variety of reasons.
For some, the extra back support can allow them to perform athletic activities such as heavy weight lifting while reducing their chance of injury. We all know the old, dusty belt at your gym isn't going to help you at all when you're trying to reach your max on deadlift. That's where a reliable brace like this one comes in handy.
Another reason some use it is to improve posture. While poor posture can often be corrected through physical therapy, this is a long-term solution and so a good external support may be helpful in the meantime.
But the vast majority of people who use this brace do so because of low back pain and similar issues. Such issues may include:
arthritis and osteoarthritis
general core muscle weakness
pain after extended periods of sitting or driving
injury or surgery recovery
low back (lumbar) orthosis
acute low back pain
chronic low back pain
People suffering from all of the above concerns (and more) have found this product useful.
Does It Work?
Back braces work well for all the issues listed above, although not everybody's back issues are the same.
The Mueller Lumbar Back Brace is considered the industry standard. It averages 4.5 stars (out of 5) on Amazon with over 5000 reviews.
One user on Amazon wrote that they will never use another low back support because the Mueller brand is the perfect fit. They describe feeling a healthy pressure on all sides of the back and abdominal wall.
Another user commented that it gave them the right amount of posture support needed after suffering from a herniated disc. They said they had used several other braces in the past but they were still able to slouch while wearing them – not good, as those of you who have had a herniated disc know.
Drawbacks
The main drawback of this brace is size limitations. It says it can support waists from 28 inches to 50 inches, but some users commented that 40 inches is probably the real limit.
Others noted that the brace might be too large for people who are on the shorter side.
We will review alternative braces for larger and smaller bodies in the future, but for now we will have to caution that it may not fit everybody.
Final Thoughts: Should You Try It?
We fully recommend the Mueller back brace. It has allowed thousands of back pain sufferers to sit, stand, and walk for much longer periods that before, all while strengthening core muscles and improving posture.
It is a relatively small investment (currently less than $25 on Amazon) that can pay huge dividends for you. We say, if it helps you get back to living your life then it is worth every penny.